Our Favorite Children's Halloween Books!
How often do you read to your children? It's no secret -
The Children's Reading Foundation
has been stressing the importance of reading to your child for 20 minutes every day. The listening and language skills learned as a young child help set the tone for those first years of school, and it's a great time to bond as well.
My husband and I read to our daughter for an average of 40-60 minutes a day. Not all at once, of course, but she does like to read for 10-15 minutes before both nap and bedtime, and we also take 5-10 minute reading breaks throughout the day. It's been a part of her routine literally since she was born, and I'm certain that it has helped develop a love for books and a comforting activity to do with mom and dad as well as alone.
Some Tips for Reading to Your Toddler:
1. Seasonal books are a great way to get your child ready for the holidays. However, they don't need to be kept for only those special times! Some of our favorite books are Christmas or Easter books, that my daughter loves to read year-round.
2. Don't be so quick to say "No" when your child wants to read the same book over and over again. The repitition is great for them! Make the book new each time you read out, by pointing out the words and pictures, naming the colors you see or counting the items you see on the page.
Our Favorite Halloween Books: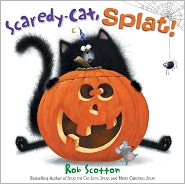 Scaredy-Cat Splat by Rob Scotton
About the Book: It's Halloween, and Splat is determined to be the scariest cat in the class. Unfortunately he's just too much of a scaredy-cat. He's afraid of a little spider, and everyone says his costume looks more silly than scary. And when Mrs. Wimpydimple tells a ghost story in the dark, Splat gets so frightened that he tips over his jack-o'-lantern. But when the lights go back on, the entire class is scared silly by a small, black, furry creature with a big pumpkin head. Whooooo can it be?
My Notes: Splat is a fun-loving cat with a whole series of books under his belt. Noted best suited for ages 3-7, but my almost 2 year old daughter loved Splat. She giggles at his silly antics, and loves to look and find his little mouse friend on each page.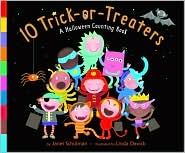 10 Trick-or-Treaters: A Halloween Counting Book by Janet Schulman

About the Book: Little do these ten trick-or-treaters know that they are the ones who will be frightened on Halloween night when a toad hops near, a skeleton tries to join their dance party, and a monster asks to share their candy. This not-too-scary Halloween counting book features the bright, bold artwork of Linda Davick and the comforting, lively rhythms of Janet Schulman's story, making it the perfect gift for young trick-or-treaters everywhere!
My Notes: We love the rhyming in this book as it counts down from 10-0 Trick-or-Treaters. My daughter loves the fun illustrations and counting the different candies on the last page.
Available on Amazon.com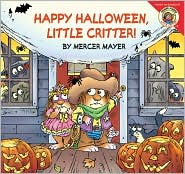 Happy Halloween, Little Critter by Mercer Mayer
About the Book:
It's Halloween! Little Critter and Little Sister are going to a spooky party at a haunted house. Bobbing for apples and playing Pin the Broom on the Witch are fun — but what kinds of monsters, mummies, and skeletons are lurking in the shadows? Pull back the big flaps to find out!
My Notes: My daughter loves lifting the flaps in this book to see which critter is dressed up in which costume. She also loves finding the spider and the mouse on each page.
Available on Amazon.com