Guest Post by From Chalkboards to Strollers! Fall Family Challenge: R is for Reading Readiness
Thanks for all the comments and support yesterday. When it came to breastfeeding, I never imagined that
I
would need to be the one weaned! It's nice to know that I'm not alone in this boat. Today is day #2 of the dropped morning nap feed, and yet again she didn't even care. I'm hopeful. :)
Fall Family Challenge:
I am so glad that everyone is enjoying the Fall Family Challenge. I wanted to do something fun and creative that would inspire families to do things together. With all the toys and gadgets out there these days, I feel like family time has become less and less of a priority. As my daughter grows up, I certainly don't want that to be the case in my house! I guess you could say I'm stock-piling ideas now so that I'm prepared.
I certainly don't consider myself an expert on the subject though. I knew that when the letter "R" approached that I wanted to do something on Reading Readiness, and it didn't take me long to ask Liz from the blog "
From Chalkboards to Strollers
" to bring over some of her expertise on the subject.
Liz is a 2nd grade teacher turned stay-at-home-mom. Her blog details the adventures that she and her daughter Avery have. It's also packed full of goodies like phonics overviews, pictures, reviews and giveaways! Make sure you stop by
From Chalkboards to Strollers
to thank you for contributing today!
R is for Reading Readiness
by Liz Giver, author of From Chalkboards to Strollers.
As parents, I'm sure we've all gotten the question. Whether it's your pediatrician or your child's teacher, who ever it might be, there is the inevitable question, "Are you reading to her everyday?" And although you are, you might be asking yourself "Do I really need to be reading to her every single day, she's so young. Does it really matter that much?" But time and time again, research has shown that there are many benefits to reading to children from an early age. By reading to children, starting in infancy, you help build pathways in their brains needed for later success in reading and so many other developmental areas.
Benefits of being read to on a daily basis from infancy (but it's never too late to start):
- helps to develop a larger vocabulary (one of the important components to the Big Five that are the foundation for learning to read)
- helps to develop superior cognitive skills
- helps to learn about communication
- introduces children to multiple concepts such as numbers, color, letters, shapes, animals, etc.
- builds listening and memory skills
- gives babies information about the world around them
- improves bonding
- has a positive effect on emotional development
- helps develop attention span
- stimulates imagination
- helps children understand concepts of print (read books from front to back, read text from left to right and top to bottom, print stands for words, etc.)
- improves later sentence structure, helping children to use longer, more complex sentences
- instills a love of books and reading
The development of early literacy skill through early experiences with books and stories is linked to a child's later success in learning to read and write. Jim Trelease, author of The Read Aloud Handbook, points out, "if the child has never heard the word, the child will never say the word; and if you have neither heard it nor said it, it's pretty tough to read it and to write it."
Not sure what to read to your child? Here's my list of the Top 11 Books to Read to Toddlers and Babies:
By Eric Carle, ISBN-13: 9780399226908
A very hungry caterpillar works his way through holes cut into the pages as he eats a variety of food, spins his cocoon, and emerges as a beautiful butterfly.
Pat the Bunny
By Dorothy Kunhardt, ISBN-13: 9780307120007
The classic touch-and-feel book in which a boy and girl experience the world around them by patting a bunny, looking in a mirror, smelling flowers and touching Daddy's scratchy face.
Brown Bear, Brown Bear, What Do You See?
By Bill Martin Jr., ISBN-13: 9780805047905
This is a classic children's book, but now it's available in board-book format. It features repetitive questions about animals and colors that your child will soon be able to answer before you even turn the page.
By Margaret Brown, ISBN-13: 9780694003617
A young rabbit says goodnight to everything in his room before bedtime in this milestone cozy book.
Sheep in a Jeep
By Nancy E. Shaw, ISBN-13: 9780395867860
In this short and easy to read rhyming story the illustrations bring the humorous story of five silly sheep to life. This picture book appeals to toddlers, preschoolers and beginning readers.
Hello Baby!
By Mem Fox, ISBN-13: 9781416985136
Lighthearted rhyming questions provide the opportunity to take a close look at all kinds of animals, creatively pictured in cut paper collages
Mr. Brown Can Moo! Can You?
By Dr. Seuss, ISBN-13: 9780679882824
This board book is especially fun for the toddler who is just learning to make animal and other sounds. In addition, you just can't go wrong with a book from Dr. Suess.
The Very Busy Spider
By Eric Carle, ISBN-13: 9780399229190
The farm animals try to divert a busy little spider from spinning her web, but she persists and produces a thing of both beauty and usefulness. The pictures can be felt as well as seen.
By Elizbeth MacLeod, ISBN-13: 9781554531790
This lively rhyming book gives readers a chance to practice animal sounds, identify animals and guess what animal is coming up next.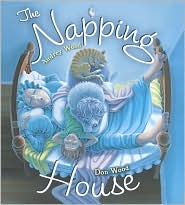 By Audrey Wood, ISBN-13: 9780152026325
In this cumulative tale, everyone in the house is sleeping piled one on top of the other until a wakeful flea disrupts the their slumbers with just one bite.
Spots, Feathers, and Curly Tails
By Nancy Tafuri, ISBN-13: 9780688075361
Questions and answers highlight some outstanding characteristics of farm animals, such as a chicken's feathers and a horse's mane.
Here are a few tips to make the most of your special reading time together:
- Read with feeling and expression; use different pitches when appropriate and different voices for different characters
- Stop at different points in the story ask questions, talk about what you are reading, and show your child the pictures
- Make reading fun; sing songs/nursery rhymes, make animal or other noises
- Read stories over and over, children learn from repetition
- Encourage them to touch and feel books, especially ones that expose them to multiple textures (be sure to tell them how it feels as they touch it)
- Emphasize rhythms and rhymes in stories.
- Look for books that are about things that interest your toddler.
- Invite them to participate by turning the pages and joining in with rhymes, sounds, and repetitive phrases or words
- Cuddle up with your child when you are reading- it makes them feel safe, warm, and connected to you
The effect that reading to your child has on their development is profound. It's best to start early but late is better then never. So get out those books, cuddle up, and read a good book today and every day! Happy reading!
The Fall Family Challenge by Holly at Nap Time is designed to encourage families to do activities together and learn at the same time. There are no rules, no wrongs, no rights - just family fun!