Get a $25 Discount Code to Shutterfly Just In Time for Holiday Cards!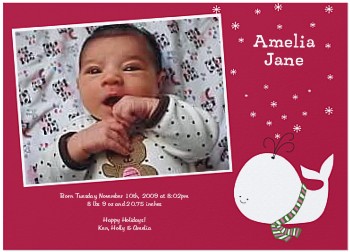 Blissful Beluga Christmas
Last year we used Shutterfly's Christmas Cards to serve a dual purpose - wish Happy Holidays to all of our loved ones and announce the arrival of our little one!
Do you want to get a $25 code to Shutterfly to use towards your holiday purchase? Follow these easy steps, here:
1. Log into your Shutterfly account.
2. If you don't already have a photocard project, you're going to need to create one.
3. Click on "My Shutterfly"
4. Click on "View All Projects" and select one of your photocard projects by clicking on the green dot above the title.
5. On the right side of the page, click "Share Project" and follow the steps to get the widget to embed the project onto your blog.
6. When you're finished, email
shareproject@shutterfly.com
with the link to your website to receive your free $25 code.
ENJOY!!!