Fall Family Challenge: K is for Kindness
It's sad to think that we live in such a time of bullying and violence. We've all seen it in the news lately - I'm not going to revisit it. There are a lot of "movements" happening to raise awareness of bullying and teaching tolerance. One such movement is
Love is Louder
, led by celeb Brittany Snow.
While these actions to raise awareness are a great start, there is really no better place to start than in your own home, teaching your children how to be kind to others.
K is for Kindness
I was at a public playground with my daughter a couple of weeks ago when a mom was babbling on and on about how her 2 1/2 year old son couldn't be held responsible for his actions because he was too young to understand or care about being nice. Um. 2 1/2 year olds are pretty smart, am I wrong? If it doesn't start at home, where is understanding kindness supposed to occur?
Set a Good Example
Sometimes it's easy to forget that our children see virtually everything to do. Set a good example for them to model, of being kind to others.
Do Something Nice For Others
One of the best ways to talk to children about kindness is to help them understand how fortunate they are. I'm sure you heard the phrase "there are starving children in [insert impoverished country that comes to mind]." Well... just saying that doesn't help. All it's left me with in fact is a lifelong guilt trip about finishing my dinner. Talk to your kids about how some kids don't get to ever have nice things, like toys or ice cream. Ask your child how they would feel if they didn't have any toys, or if they didn't have a stuffed animal to sleep with at night. Once they can relate, they can much better undertand kindness.
Pay it forward! Ask your child to pick out a toy that they no longer play with for a child who doesn't have a toy. This act of kindness will go a long way, both in your child's development and for the worldwide movement to give to others.
For other ways to celebrate being kind with your child, please visit
HelpOthers.org
.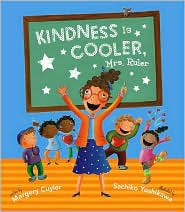 Read All About It!
If you're like me, you spend a lot of time reading to your kids. The characters of the stories, pictures, and storylines teach kids a lot about life, and often help introduce new concepts in a friendly and familiar manner. Here are some great stories on kindness from
Barnes & Noble
:
Practice Sharing
My 11 month old loves to share her finger foods with mommy and daddy. We encourage this, and also share with her. We have done this for the past couple months and I was so proud yesterday when in music class she shared a tambourine with another child.
Kindness is good to teach your child at any age, but the younger the better. I am still a little peeved at that mom who allowed her child to disobey under the reasoning that 2 1/2 is not old enough to understand kindness. Sigh.
The Fall Family Challenge by Holly at Nap Time is designed to encourage families to do activities together and learn at the same time. There are no rules, no wrongs, no rights - just family fun!